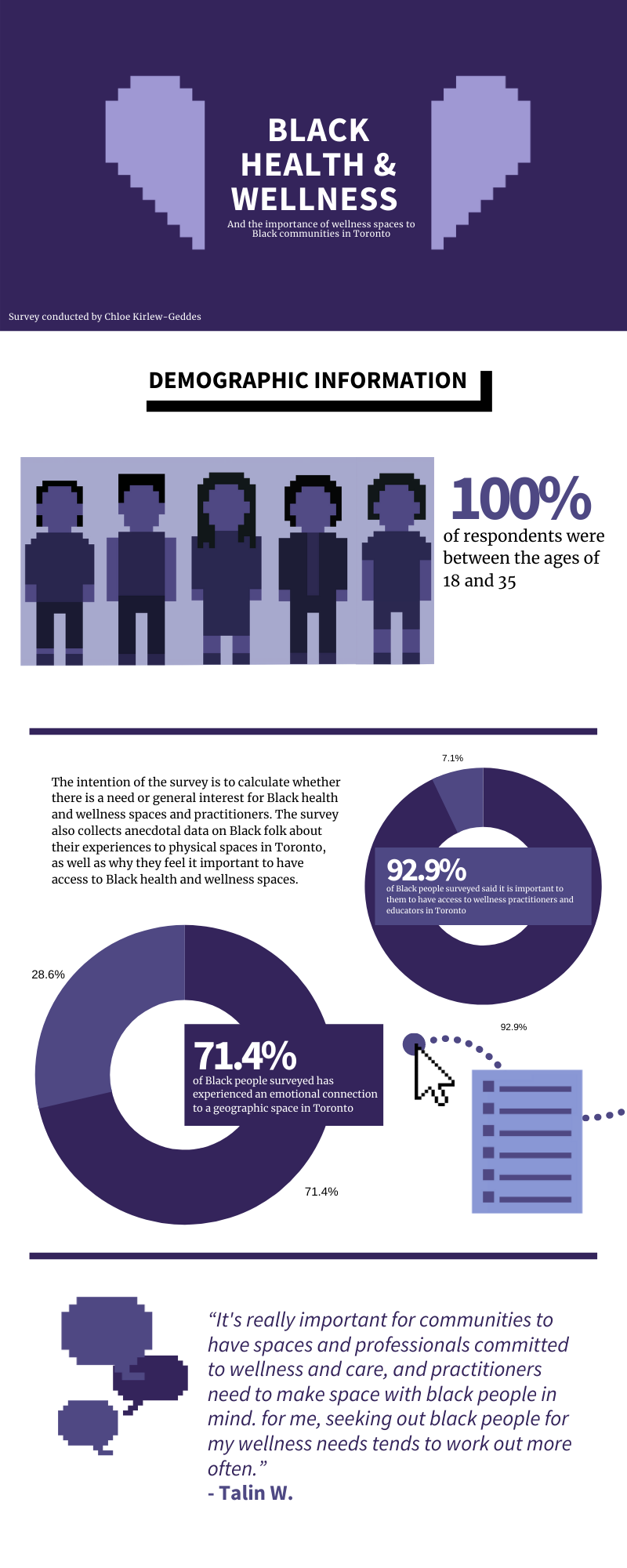 The intention of the survey was to calculate whether there is a need or general interest for Black health and wellness spaces and practitioners. The survey also collects anecdotal data on Black folk about their experiences to physical spaces in Toronto, as well as why they feel it important to have access to Black health and wellness spaces. The end of the survey is an optional referral to Black wellness practitioners - data useful in the directory portion of the website.
Statistics
71.4% of Black folk surveyed has experienced an emotional connection to a geographic space in Toronto
92.9% of Black folk surveyed said it is important to them to have access to wellness practitioners and educators in Toronto
With 100% of surveyed folks between 18-35, the data shows the importance of wellness spaces to Black millennials
Quotes on Emotional Connection to Spaces in Toronto
"I grew up in Toronto so most of my childhood memories are connected to different parts of East York and Scarborough. Most of my family and friends live in Toronto so I feel like I'm always moving across the city and getting to know different parts. Growing up in an east african community within a city that has a large east african population was important for me to see growing up - to see how elder generations developed new life after extraordinary migration experiences." - Sarah E.
"Weston Road. It's where my family and I were raised, and I have a lot of memories on that strip. It reminds me when I used to be a lot closer to my siblings. We were a lot younger then, so it always reminds me of my childhood and how innocent we were." - Keosha D.
"I remember stepping out of Wellesley subway station at the clumsy age of 16 to the electric, if not entirely intoxicating, sounds of the Caribbean. Across the street there was a parking lot bursting at the seams with a constellation of spectacularly dressed Black people. This moving image absolutely transformed my life. That was 2003. So much has happened since in this city, in our communities, but what's remained constant is the joyous gathering that has taken place in that parking lot. Blockorama, an arts festival organized by the Blackness Yes! Committee, has been a home and meeting place - a magnificent and magical agora - for countless numbers of us who live on the intersections of Blackness and queerness." - Lali M.
"Eglinton West, also known as Little Jamaica. I grew up in the area. I got patties at Randy's Take-Out and got my hair cut at Michael's Barber Shop. It was home for a really long time." - Zaria C.

Quotes on Importance of Access to Black Wellness Practitioners
"It's really important for communities to have spaces and professionals committed to wellness and care, and practitioners need to make space with black people in mind. for me, seeking out black people for my wellness needs tends to work out more often." - Talin W.

"As  the owner of black owned fitness company. It's an ongoing mission to cater to the Black population. Wellness matters and should be accessible to everyone. Connecting with other practitioners and people in the community only furthers that mission"  - Shulamit, Unchained Athletics

"It's extremely important because we know how much representation means to people who've continued to be erased in mainstream media. Furthermore, to have those black folks as wellness workers who pursue the mental, emotional, spiritual health of our communities is so special and crucial. Many of us struggle with past trauma, current trauma, and generational trauma we're only just learning of. To feel supported and seen by these workers is so helpful." - Tamiarea M.B

"I think the existence of such a resources a great eye opener and reminder that I am justified in wanted Black professionals to help me in my journey - whether that be a journey of health, education, etc."- MK